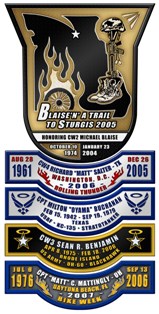 Who We've Honored ...
• CW2 Michael Blaise - 2005
Sturgis, SD
• CW4 Richard "Matt" Salter - 2006
Rolling Thunder - Washington, DC
• CPT "Matt" C. Mattingly - 2007
Daytona Bike Week
• CW2 David M. Stanley - 2008
105th Anniversary of Harley Davidson
Contact Us!
on the web ...
www.blaisenatrail.com
www.myspace.com/blaisenatrail
http://www.kateblaise.com
• E-Mail
blaisenatrail@yahoo.com
Click HERE to view CHPA's Blaise 'N' A Trail to Education page.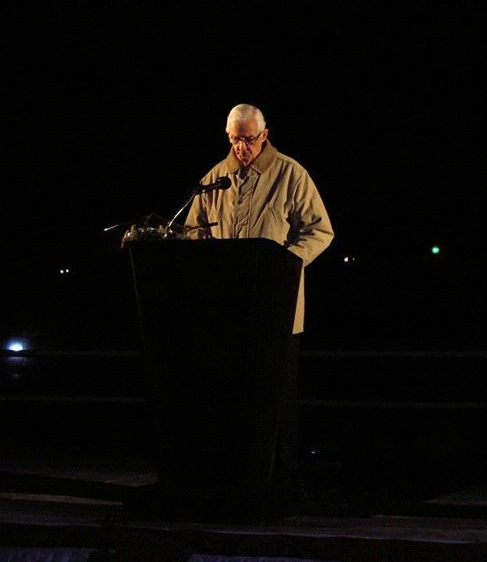 Who We Are ...
Blaise 'N' A Trail is a memorial motorcycle ride that was named for CW2 Mike Blaise, an avid rider who gave his life serving in Iraq.
The ride has grown into an annual memorial ride that honors a different fallen soldier each year, with a new destination. In 2005 we rode to Sturgis, South Dakota for Bike Week, honoring CW2 Mike Blaise. In 2006 we rode to Washington D.C. for Rolling Thunder, honoring CW4 Matt Salter. In 2007 we rode to Daytona Beach, Florida for Bike Week, honoring CPT Matt Mattingly.
In 2008 we will be riding to Milwaukee, Wisconsin for the 105th anniversary of Harley Davidson, and the opening of their museum, and NO, you DO NOT have to have a Harley to ride with us.
---
***ATTENTION TRAILBLAISERS***
Please join on us on our next ride as we Blaise A Trail to Milwaukee, Wisconsin to honor Chief Warrant Officer 2 David M. Stanley!
Chief Warrant Officer 2 David M. Stanley, 33, was from Fort Rucker, Alabama. He was assigned to Company C, 4th Battalion, 101st Aviation Regiment, 159th Combat Aviation Brigade, 101st Airborne Division (Air Assault). CW2 Stanley died along with two fellow crew members when their Black Hawk helicopter crashed in Jackson County, Alabama on Tuesday night, 11 September, 2007.
Stanley joined the Army in November 2000 and arrived at Fort Campbell in November 2003.
His awards and decorations include the Air Medal, the Army Commendation Medal, Meritorious Unit Commendation, National Defense Service Medal, Iraqi Campaign Medal, Global War on Terrorism Expeditionary Medal, Global War on Terrorism Service Medal, Army Service Ribbon, and the Overseas Service Ribbon.
He is survived by his wife Christy, and two sons, Tyler and McGuire.
BLAISE ON CW2 STANLEY!
---
Future Rides ...
TRAILBLAISERS:
EVERY year from here on, we will be riding to a different location to honor those who have given of themselves in the service of their country, and more specifically, an air crewmember who has sacrificed his or her life in the name of freedom.
Further into the future, we would like to honor an officer and an enlisted air crewmember from each branch of the U.S. Armed Forces. This of course will take quite a bit of organization and a representative from each branch to help to identify and select potential candidates, contacting the families, getting the patch designed, and organizing the ride.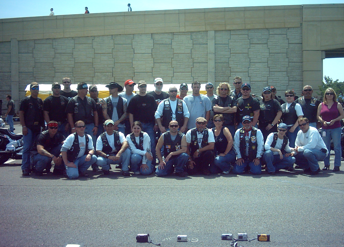 Rolling Thunder - Washington DC - 2006
If you want to be part of this ride, no matter how small a part—we welcome you. Your options for participation are numerous.
• Meet us in Shelbyville, MO each year at Mike Blaise's resting place, who we honored our first year in 2005, and consequently who the ride was named after.

• Meet at the resting place of any of the service members that we are honoring, or have honored in previous years.
• Ride straight to our destination and meet us there.

• Trailer your bike (we'll probably give you a hard time, but it's really OK).

• Find a group near you and ride with them all the way, or give them some extra company for part of their trip.
• Fly or drive to the destination, and ride with someone else. We are not going to be matchmakers, but we can probably help some hitch a ride.
The possibilities are endless! If you want to join us in honoring our fallen, you can find a way.
We will have a new patch designed every year for each service member that we honor, as well as a smaller design (scroll) for those who have ridden in the previous years. Plans are to have these available at the destination for those who register by email and participate in some way. If you would like to honor a different fallen service member—have an additional patch made for yourself, and ride with us (We can provide contact information for a patch).
Additionally, we will be looking for people from various starting points to help organize, as well as lead groups and plan routes. Volunteer!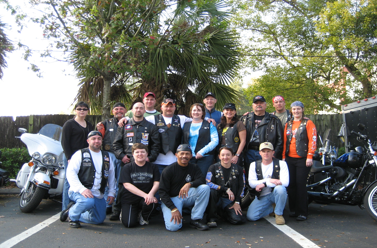 Daytona Bike Week - Daytona FL- 2007
Tentative schedule for future rides (subject to change):
2008—Milwaukee 105th Anniversary of Harley Davidson
2009—April - Beach -N- Biker Fest - South Padre Island, Texas (include a ride into Mexico)
2010—May - Branson Motorcycle Rally – Branson, Missouri
2011—May - Myrtle Beach Bike Week - Myrtle Beach, South Carolina
2012—June - Republic of Texas (ROT) Bike Rally, Austin, Texas
2013—June-July - The Hollister Independence Rally – Hollister, California
2014—July - Rumble to Revy's Motorcycle Rally – Atwater, Minnesota
2015—August - 75th Annual Sturgis Bike Rally - Sturgis, South Dakota
BLAISE ON!